WILD DISCOUNTS THIS BLACK FRIDAY
Most Popular Bundle

Glass Skin Bundle

Collectors Faves Bundle
it's giving face
Perfect Complexion
We hit it out the park with complexion. After 7 years we launched the most luxurious, skin-like complexion products.
Guide for full glam complexion:
-1 foundation
-1 powder same tone as your foundation
-1 brightening powder 2 shades lighter
-1 contouring powder 2 shades darker
PERFECT COMPLEXION
Discover our SKIN FIRST full coverage and high performance complexion products. Our range of foundation & powders are exactly what you need for an everyday face or full glam. Cover imperfections whilst feeling your most authentic self with our true to tone formula. EMAIL sales@constancebeauty.com to get shade matched.
DISCOVER COLLECTION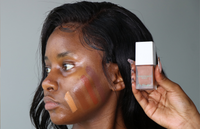 THIS WEEKS SKINCARE BEST SELLERS
LushSkin Shimmer Body Butter
2018-2023
Constance Beauty launched in 2018 during a time when inclusivity was more than a trend but rather a reality for us. We launched with the most beautiful long wear and opaque liquid matte lipstick formula and now we bring you our skin enhancing complexion products in mix & match tones.
Shop with confidence and consult with our team via sales@constancebeauty.com